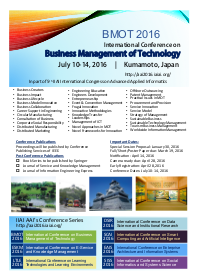 1st International Conference on Business Management of Technology (BMOT 2016)
The 1st IIAI International Conference on Business Management of Technology, IIAI-BMOT 2016, brings together scientists, R&D technicians and managers, project managers, technology management researchers, engineering educators, CEOs and presidents in corporations, and students to exchange and share their experiences, new ideas, and research results about all aspects (theory, business model, business analysis and reports, and proposals) of business management of technology, and discuss the future challenges. The conference will cover a broad set of research topics including, but not limited to, the following:
AR/VR Technology for Business Improvement
Business Analysis
Business Creators
Business Impact
Business Intelligence
Business Lifecycle
Business Model Innovation
Business Process Modeling
Business Collaboration
Business Communication Support
Business Data Science
Business Software/Application Development
Career Support in Engineering
Circular Manufacturing
Coaching Methods
Consultation of Business
Corporate Social Responsibility
Data Visualization for Business
Decision Support
Design Management
Distributed Manufacturing
Engineering Education
Educational Support
Engineers Development
Entrepreneurship
Frugal Innovation
Human Centered Design
Inventory Management
Innovative Methodologies
Knowledge Transfer
Leaderships
Mathematical Algorithm for Business Problems
Marketing
Management of ICT
Mobile Business
Mobile/Smartphone Applications
Mobility Management
Novel Approaches in Management of Technology
Novel Frameworks for Innovation
Offshore Outsourcing
Mathematical Optimization in Business fields
Motion Sensing Technology for Business Improvement
Patent Management
Practical Issues in Management of Technology
Privacy Protection
Procurement and Provision
Project Management
Product Design
Production Management
Promotion Strategy
Quality Control
Risk Management
Security Management
Service Innovation
Service Model
Service Science
Service Engineering
Skill Acquisition in Business Fields
Strategy of Management
Sustainable/Green Business
Web Design
Worldwide Information Management
Call for Special Session Organizer
Special sessions supplement to the regular program for BMOT2016. Each special session should provide an overview of the state-of-the-art and highlight important research directions in a field of special interest to BMOT participants.
How to propose your Special Session
1.An applicant for an IIAI-AAI special session organizer must submit a proposal via the website (http://www.iaiai.org/conference/aai2016/special-sessions/special-session-proposal-form/) by January 31, 2016. The proposal should include the following 7 items:
◾Organizer's Name
◾Organizer's Email address
◾Organizer's Affiliation
◾Country
◾Title of Special Session
◾Theme (Choose LTLE)
◾Abstract of Special Session (between 300 and 500 words)
2.The IIAI-AAI 2016 committee will review the proposal after receiving it, and notify the result to the applicant in about one week. If accepted, the applicant to the special session organizer is requested to submit the reviewer list to the special session chair in one week. Moreover, the special session organizer must pay attention to followings.
◾The special session requires at least 5 papers.
◾Please select the best paper of your special session. The best paper will be invited to submit special issues of post conference publications (Special Issues of information Engineering Express Journal (http://iaiai.org/publications/jlist/iee/).
◾All papers will be peer reviewed and accepted papers will appear in the Conference Proceedings to be published by CPS and Conference Proceedings will be submitted to be indexed by EI, INSPEC, DBLP and Thomson ISI.
◾The special session organizer must register to the conference.
◾Special session organizer chairs your special session in the conference.
◾Please pick the "certificate of organizing special session" up at the reception desk of the conference venue.
3.Call-for-paper or other information about the special session will be shown in the following website (http://www.iaiai.org/conference/aai2016/workshops-and-special-sessions/).
4.The organizer will receive the information of schedule and procedures about paper submission and review, publication of the proceedings, and conference management. The organizer is requested to utilize the IIAI-AAI 2016 website for paper submission (http://www.iaiai.org/conference/aai-openconf/openconf.php). In the website, the organizer can assign papers to reviewers, and report review results to IIAI-AAI 2016 committee.
Benefit for special session organizers
The organizers can gather people who are interested in the theme you are also interested in, and referee the submitted papers based on your criteria. Some papers in each special session can be nominated for journals. The best paper you choose in each Special Session will be invited to submit special issues of post conference publications (Engineering Express Journal; http://iaiai.org/publications/jlist/iee/).
I am sincerely looking forward to your interest and submission to Special Session!
BMOT 2016 Organization
Conference Chair
Shimpei Matsumoto, Hiroshima Institute of Technology, Japan
62 International Program Committees
Atsushi Shimoda, Chiba Institute of Technology, Japan
Chung Te Ting, Chang Jung Christian Univ., Taiwan
Dauw-Song Zhu, National Dong-Hwa Univ., Taiwan
Hidefumi Kawakatsu, Onomichi City Univ., Japan
Hidekazu Iwamoto, Josai International Univ., Japan
Hideki Katagiri, Hiroshima Univ., Japan
Hidetoshi Takeno, Hiroshima Institute of Technology, Japan
Hiroaki Ishii, Kwansei Gakuin Univ., Japan
Hiroaki Itakura, Kagawa Univ., Japan
Hirosato Seki, Osaka Univ., Japan
Hiroshi Yajima, Tokyo Denki Univ., Japan
Hiroshi Imahashi, Ritsumeikan Univ., Japan
Hiroyuki Kojima, Hiroshima Institute of Technology, Japan
Hsiao-lan Wei, National Taiwan university of science and technology, Taiwan
Hsingwen, Han, Tamkang Univ., Taiwan
Kazunari Ishida, Hiroshima Institute of Technology, Japan
Kazutomi Sugihara, Fukui Institute of Technology, Japan
Ken-ichi Fukui, Osaka Univ., Japan
Keiichi Niwa, Hiroshima Univ. of Economics, Japan
Kosuke Kato, Hiroshima Institute of Technology, Japan
Kouichi Tsujii, Nippon Travel Agency Co., LTD., Japan
Kun Mao Lin, National Dong Hwa Univ., Taiwan
Kousaku Igawa, Tokyo Institute of Technology, Japan
Liao Kuo Hsun, National Dong Hwa Univ., Taiwan
Martin Zsifkovits, Universität der Bundeswehr München, Germany
Masakazu Takahashi, Yamaguchi Univ., Japan
Masanori Akiyoshi, Kanagawa Univ., Japan
Masaru Teranishi, Hiroshima Institute of Technology, Japan
Min-Jon Kuo, National Dong Hwa Univ., Taiwan
Mitsuhiro Kurashige, Kochi Univ. of Technology, Japan
Naoki Sato, Wakayama Univ., Japan
Naoya Honda, Otemae Univ., Japan
Ray Wang, Hungkuang Univ., Taiwan
Pei-hung Ju, National Kaohsiung Univ. of Appiled Sciences, Taiwan
Ryo Haruna, Kanazawa Gakuin Univ., Japan
Shigeyuki Tani, Hitachi Europe Ltd., ERD – Copenhagen
Shao-Hsi Chung, Meiho Univ., Taiwan
Shingo Aoki, Hiroshima Institute of Technology, Japan
Shinji Abe, Hiroshima Institute of Technology, Japan
Shuichi Yamagishi, Hiroshima Institute of Technology, Japan
Takashi Hasuike, Waseda Univ., Japan
Takanori Matsui, Osaka Univ., Japan
Takashi Tanizaki, Kindai Univ., Japan
Takashi Kobayashi, Senshu Univ., Japan
Takeshi Matsui, Hiroshima Univ., Japan
Takeshi Uno, Prefectural Univ. of Hiroshima, Japan
Takeshi Uno, The Univ. of Tokushima, Japan
Takumi Ichimura, Prefectural Univ. of Hiroshima, Japan
Tatsushi Tokuyasu, Fukuoka Institute of Technology, Japan
Te-King Chien, National Formosa Univ., Taiwan
Tomoko Kashima, Kindai Univ., Japan
Tomoko Tateyama, Hiroshima Institute of Technology, Japan
Toshijiro Tanaka, Prefectural Univ. of Hiroshima, Japan
Toshiyuki Ono, Hitachi, Ltd., Japan
Tsutomu Takamiya, Tokyo Institute of Technology, Japan
Yaeko Mitsumori, Osaka Univ., Japan
Yasuhiko Takemoto, Prefectural Univ. of Hiroshima, Japan
Yoji Taniguchi, Daiichi Institute of Technology, Japan
Yoshiyuki Yabuuchi, Shimonoseki City Univ., Japan
Yosuke Kakiuchi, Hiroshima Institute of Technology, Japan
Yu Sheng-Huang, Chang Jung Christian Univ., Taiwan
Yueh-chiu Wang, National Penghu Univ., Taiwan